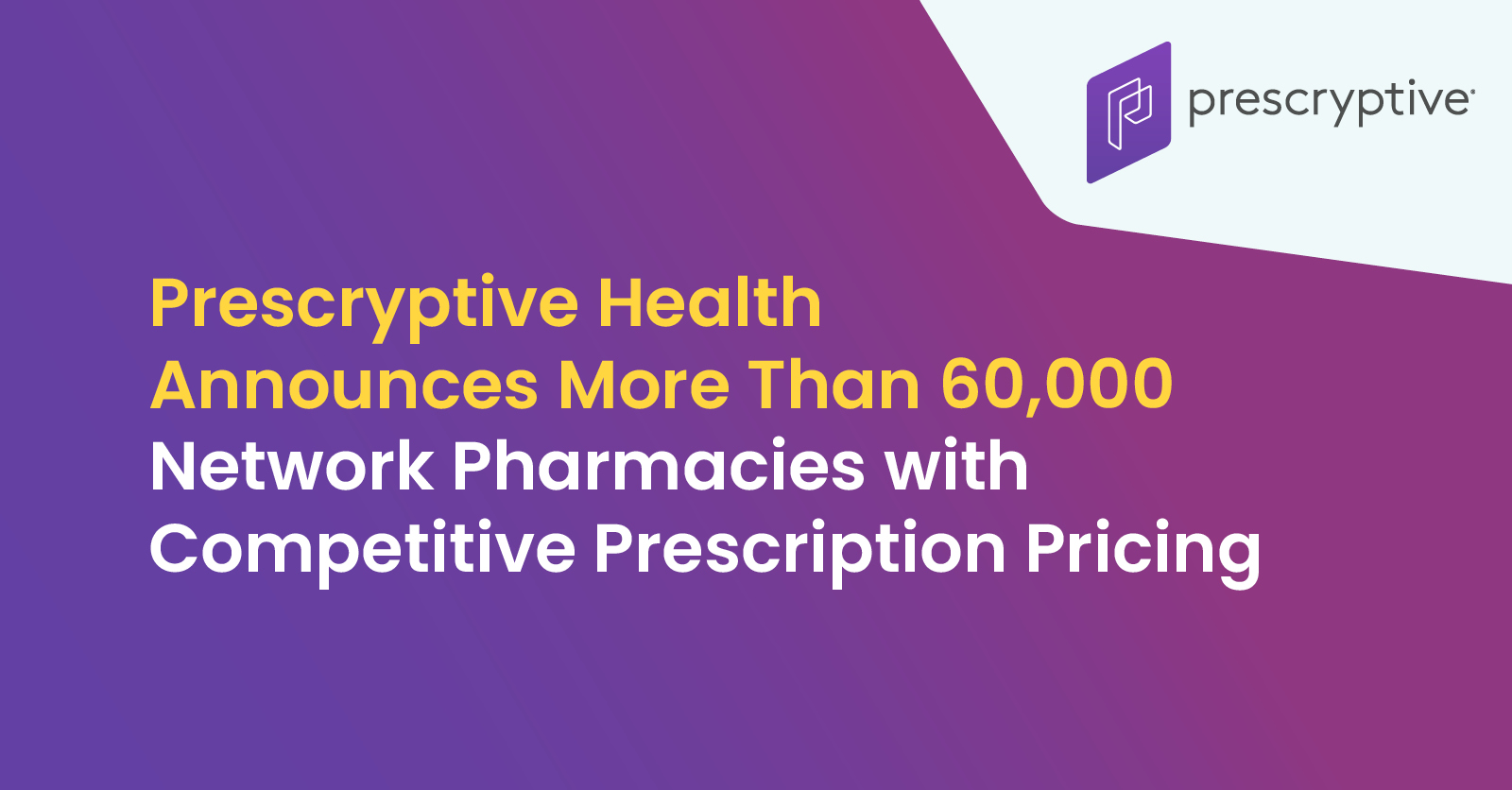 Prescryptive Health Announces More Than 60,000 Network Pharmacies with Competitive Prescription Pricing
Consumers can find and compare prescription drug prices nationwide at local pharmacies on myPrescryptive, Prescryptive's SMS-based digital prescription platform
Redmond, WA – April 20, 2023 – Prescryptive Health, a healthcare technology company on a mission to rewrite the script for the U.S. pharmaceutical market, announced today that more than 60,000 pharmacies nationwide are available to healthcare consumers on its web-based mobile prescription management app, myPrescryptive.
The unique, patented platform enables prescribers to send patients an encrypted electronic prescription to their mobile phone via SMS at the point of prescribing. After receiving a text message, patients can then choose a pharmacy based on price and location to dispense their medication, including mail order, all on their mobile phone. Consumers can save up to 90% on the cost of their prescriptions when searching for their medications through Prescryptive's savings offering.
"To change the prescription drug market, we have built an entirely new ecosystem and marketplace," said Chris Blackley, Prescryptive co-founder and CEO. "Our efforts to rewrite the script by empowering the healthcare consumer to take control of their prescriptions through their mobile phone has led us to include more than 60,000 pharmacies in our network, with more to come."
Founded in 2017 by former Microsoft leaders, Prescryptive has 200+ combined years of licensed ​clinical pharmacy experience across the leadership team. Its digital prescription platform was built leveraging blockchain technology to create a more secure and transparent prescription drug marketplace. In 2021, the company received the first patent for a blockchain-based digital prescription – the foundation for giving patients control over their prescriptions and allowing prescribers, pharmacies and manufacturers to connect and collaborate. Prescryptive's platform is Surescripts certified, can receive a prescription from any prescriber with e-prescription capability and is compatible with any pharmacy system that complies with the industry's NCPDP standards for e-prescription transactions. ​Last year, the company managed more than 2 million electronic prescription transactions on the platform.
Recently, Prescryptive contracted directly with pharma manufacturer Lilly to stabilize the cost of insulin for employers. The company also offers pricing powered by artificial intelligence to help community pharmacies stay competitive. Additionally, Prescryptive provides a pharmacy benefit solution that does not make money on drugs and instead cuts out traditional middlemen (pharmacy benefit managers, or PBMs), directly passing through all rebates to employers, giving data ownership to the employer and providing true price transparency and choice to both employers and their members at the point of prescribing through myPrescryptive.
To learn more about Prescryptive, visit https://prescryptive.com/.
---
About Prescryptive Health
Prescryptive Health is a healthcare technology company rewriting the script for the US pharmaceutical market. We are building a more equitable and transparent ecosystem that connects patients, prescribers, pharmacies, payers, and pharma manufacturers, empowering consumers to take ownership of their prescriptions. Our solutions optimize health outcomes while enabling better patient engagement through user-friendly technology. More at Prescryptive.com or on LinkedIn. #letsrewritethescript
All trademarks, logos and brand names are the property of their respective owners.
Media Contact
NextPR; prescryptive@nextpr.com